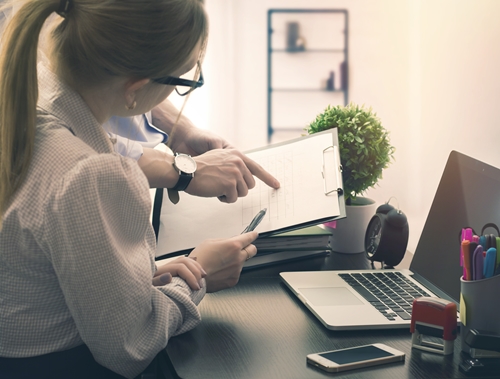 The next time you're sitting at your work desk, look around. You likely have a stapler, a few pens and perhaps a framed photo or two. Outside of that, however, there may be plenty of space for extra goodies and helpful items. Some office employees spend hours at their desk, and you may benefit from a minor upgrade. Consider these great items that can make your work space more comfortable and make sure you have everything you need.
1. Tissues
This can be easy to overlook, but a box of tissues can make a big difference when sitting at your desk. You never know when you might have the sniffles or spill your coffee. Even a small pack can be useful to have, and the Huffington Post found that this little addition to your desk can benefit your co-workers as well.
2. Healthy snacks
A bowl of fruit or stash of granola bars is another key item to get for your desk. Opting for a an apple or banana is much more preferable than a sugary candy bar or soda that will leave you feeling tired. Likewise, vending machines or corner stores that do offer healthy snacks usually do so at inflated prices. There's nothing worse than trying to finish a project on an empty stomach, and it pays to stock up.
3. A reusable water bottle
Being dehydrated can also make you feel sluggish or even irritable, and sometimes you might reach for a snack when you really need a sip of water. Bring a reusable water bottle each day and remember to stay hydrated.
Importantly, Eco Watch reported that the vast majority of trash in the ocean is plastic, with as many as 46,000 pieces of plastic per square mile floating in the sea. Opting for a reusable water bottle can help reduce your impact.
4. An IMAK Ergo Wrist Cushion
It's important to take breaks every so often to give your eyes and legs a break from long hours of sitting. One thing you may overlook, however, is the effect so much time on a computer can have on your wrists and hands.
The IMAK Ergo Wrist Cushion lowers your risk of carpal tunnel and other conditions that can be brought about by an office job. It gently supports and massages your wrists in a way that reduces pain and long-term damage.
5. Breath mints
You never know when you may have an impromptu meeting with your boss or an important client. A tin of mints is great for emergencies if you get caught with coffee breath.
6. Your cell phone charger
Odds are you use your smartphone quite frequently throughout the day. You might be checking the weather, downloading a new podcast or sneaking on to social media for a quick break from your work. Instead of bringing your charger back and forth from home to the office, it's probably easier to get one to leave at your desk.
7. A leafy plant
The right potted plant can make your desk feel a little more calm and relaxing. Likewise, it gives your work space a bit of personality. There are many types that do quite well in an office setting and don't require too much watering or other maintenance. Find one or two that you particularly enjoy and use them to give your desk some life.
8. Headphones
Sometimes your co-workers may not be as focused as you are, and distracting office banter or phone calls can make it hard to stay on top of your work. A pair of comfortable headphones is great for listening to music or anything else that helps you concentrate and avoid unnecessary disturbances.