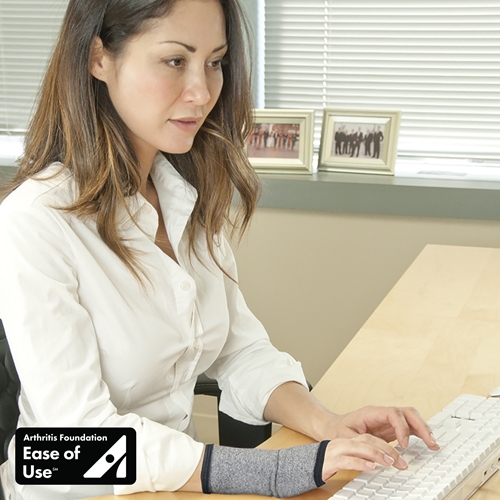 If you have arthritis, you're not alone. The Centers for Disease Control and Prevention reported that an estimated 54.4 million U.S. adults were diagnosed with some form of arthritis, gout, lupus or fibromyalgia each year between 2013 and 2015. The pain caused by these chronic conditions is a constant companion to millions of people across the country.
Because arthritis pain is a recurring problem, you need a product that can keep up with your busy lifestyle, day-in and day-out. That's why we designed the IMAK® Compression line to provide the support and comfort you need to maintain your quality of life.
Arthritis relief where you need it, when you need it
You can't choose when and where your arthritis flares up, or how long an episode lasts. But you can be prepared.
Though prescription medication and over-the-counter pain relief are common solutions, many patients prefer to skip the pills and opt for a more natural answer.
One natural solution is compression products. This strategy usually comes in the form of socks, gloves or sleeves. When worn, the material gently squeezes the affected area of your body, preventing your blood from pooling and increasing your circulation. This in turn promotes healing and pain relief.
So how does it work?
The Brownmed IMAK® Compression products value comfort and ease-of-use for arthritis patients, providing warmth and increasing circulation to areas affected by the disease.
To ensure that each piece of the collection is comfortable enough to wear at any time of day or night, they're made with a soft, breathable cotton-spandex blend. And this material does more than just increase wearability – it lets you truly 'Feel the All-Day Difference.'
Many compression garments are made of neoprene, which means that they're perfect to wear at the gym during a workout. But after a short period of use, they may become hot and sweaty, which means they aren't great options when you want something to keep on for an extended period of time. By contrast, the material used in IMAK® Compression is designed for all-day comfort, making it perfect for people with chronic conditions like arthritis.
IMAK Compression products aren't just for arthritis pain. They may also help relieve pain from fibromyalgia, overuse and more.
Try the IMAK® difference for yourself today
The IMAK® Compression line carries products for most any type of arthritis, from head to toe.
Many of our most popular items, including the IMAK® Compression Arthritis Gloves, have earned the Arthritis Foundation's Ease of Use Commendation for their design. In fact, our gloves are the only gloves on the market to have achieved this designation.
Other products include the following:
Whether you need a pair of gloves to keep the pain in your hands at bay or want an elbow sleeve to aid recovery after a day of heavy lifting, try the IMAK® Compression line to experience arthritis relief today.