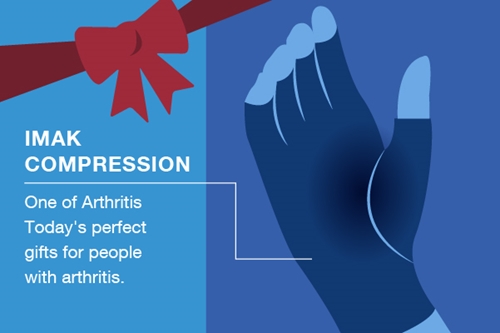 The holiday season has arrived and Christmas will be here before you know it. Have you started your gift shopping? This year, instead of gifting a trinket that ends up at the bottom of the closet, buy a useful present that offers pain relief. There are dozens of gifts to make life with arthritis much easier and enjoyable.
Consider this shopping guide to find the perfect present for someone you know who's living with arthritis pain:
1. A gym membership
Regular physical activity can actually reduce the pain and discomfort associated with arthritis. Signing your loved one up for a gym membership can encourage him or her to take advantage of the opportunity for physical activity at his or her leisure.
2. A cleaning service gift certificate
Regular exercise is beneficial, but too much physical activity or movement can be debilitating for someone living with arthritis. To ease the pain and show your appreciation, consider giving the person on your list a gift certificate for a cleaning service, as suggested by Healthline. This gives him or her the opportunity to sit back and relax while someone else takes care of the household chores.
3. Cooking tools
Baking, cooking and preparing meals can be difficult for someone who lives with arthritis, and this can be heartbreaking if the person enjoys spending time in the kitchen. Give him or her a helping hand by gifting cooking tools with grips and pressure-absorbing handles.
4. A heated blanket
Keeping the body warm is critical to a good night's rest and reduces bones and joints from tensing up in the middle of the night. The gift of a heated blanket offers fast warmth and comfort.
5. IMAK® Compression Arthritis Wrist Sleeve
If the person on your list is dealing with pain or stress in the wrists, consider gifting the IMAK® Compression Arthritis Wrist Sleeve. It's designed with mild compression for warmth to relieve arthritis pain and joint swelling, and may help with neuropathy and poor circulation. This gift allows him or her to continue using hands and wrists throughout the day with ease.
6. IMAK® Arthritis Gloves
Help the person on your list manage daily tasks by giving IMAK® Arthritis Gloves. The product's unique design provides mild compression for warmth and helps to increase circulation, both which can relieve the aches, pain and stiffness associated with arthritis. These gloves are made from breathable cotton-spandex materials and have open fingertips so your loved one can go about completing tasks without trouble. It's the perfect way to give the gift of pain relief this holiday season.

If you're interested in purchasing either of these IMAK® Compression products, you can find these on Amazon.com or at your local Walgreens. Happy holidays!