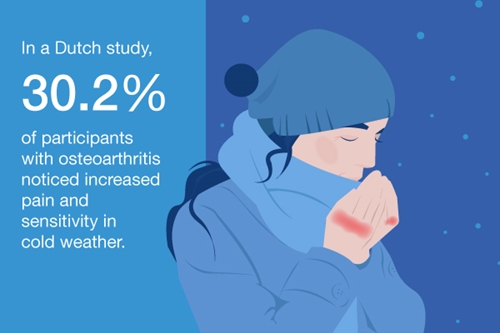 Over 54 million people live with arthritis in the U.S., according to the Centers for Disease Control and Prevention. It's the leading cause of disability and amounts to at least $81 billion in annual medical costs nationwide. While those living with the condition may endure aching, stiffness and pain year-round, doctors report hearing from their patients that the cold makes it worse.
Arthritic pain caused by temperature change varies on a case-by-case basis, but one often-cited Tufts study showed connections between barometric pressure, temperature and osteoarthritis of the knee. Let's take a closer look at how weather can impact arthritis, and how you can combat the pain if you're among the sensitive population:
How does weather impact arthritis?
According to The Weather Company , the barometric pressure is to blame for that sudden ache you feel when a storm's headed to your town. When there's a change in the weight of the air pressing against the surface of the earth , joint or headaches are more likely to occur.
"Arthritis affects everything else within the joint itself, including the joint lining, which we call the synovium, as well as the ligaments that are within the joint," Dr. James Gladstone, co-director of sports medicine at the Mount Sinai Hospital in New York City, told weather.com. "All of those tissues have nerve endings in them, so they're going to feel changes in the weather as tightness in the joint, or stiffness."
A study led by the Department of Epidemiology and Biostatistics at the VU University Medical Center in Amsterdam found that 39.2 percent of participants with osteoarthritis noticed increased pain and sensitivity occurred in damp and rainy conditions, and 30.2 percent were more sensitive to cold weather.
"IMAK® Compression products are made to maximize comfort."
How can you combat the pain?
As winter rolls in and the weather conditions start to change, you might notice an increased sensitivity in your joints, whether that's in your hands, fingers, wrists, knees, feet or back. This can make taking care of normal daily tasks more difficult to handle. To combat the pain and navigate the day with ease, you can try a variety of IMAK® Compression products.
IMAK® Compression gloves, socks, wrist, elbow and knee sleeves are designed to provide mild compression for warmth, which helps increase circulation and relieve aches, pain and stiffness associated with arthritis to promote healing. These products are made to maximize comfort and ensure dexterity so you can perform daily tasks as usual.
The holiday season is right around the corner, and now's the perfect chance to ask for IMAK® Compression products! These products can be ordered on Amazon.com or found at your local Walgreens.