With temperatures below zero, Brownmed warmed up with its third annual Chili Contest. Five competitors dished out their favorite bowls of beans.  A lunch buffet of chili was enjoyed and votes were cast for the crowd favorite.
At afternoon break, Jerry Rohwer took home the Brownmed Chili Cook-Off Trophy for the 2nd year in a row with his version of "Grilled Steak Chili".  Jerry remarked that he used the same recipe as last year… with a little Emeril "BAM"  (kickin' it up a notch) added in!
Grilled Steak Chili
1-1/2 lbs. browned hamburger 1 medium onion, chopped ½ cup brown sugar 2 Tbsp. mustard 1 tsp. chili powder ½ tsp. salt ½ tsp. pepper 1 can black beans 1 can chili beans (spicy) 1 large can vegetable juice 1 can Rotel tomatoes (chili fixin) 1 can chopped tomatoes and green chilies Round steak, grilled and cubed Brown hamburger and chopped onion; drain.  Add brown sugar, mustard and other seasonings.  Add all other ingredients and simmer on low or put in crock pot.
Here is Jerry holding the infamous (yet elusive) Brownmed Chili Cook-Off Traveling Trophy.  Competitors are already brainstorming recipes for next year – watch out, Jerry!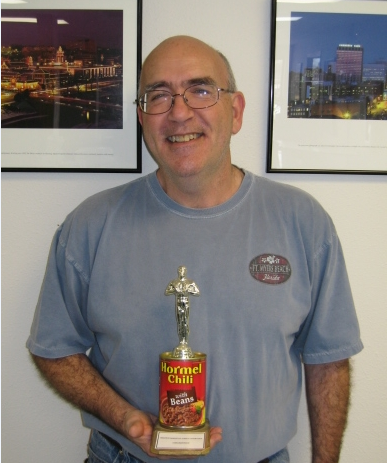 What are
you
doing to stay warm this season?