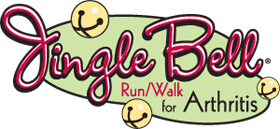 The undeground was rockin' with a jingling beat on December 15 for the 2013 Jingle Bell Run and Brownmed was there. A record-high 1,700 people jingled their way through the Meritex Executive Park in Lenexa, KS at the 25th anniversary of the Arthritis Foundation's run.
Brownmed again sponsored the event and had plenty of IMAK® products on hand for run participants including Arthritis Gloves, Active Gloves and Smart Gloves, all of which have earned the Arthritis Foundation's Ease of Use Commendation for design.
The event raised more than $100,000 for the Arthritis Foundation – a record high for Kansas City. According to the CDC, Arthritis is the most common cause of disability in the United States, affecting more than 52.5 million adults.  To learn more or donate to the Arthritis Foundation, click here.