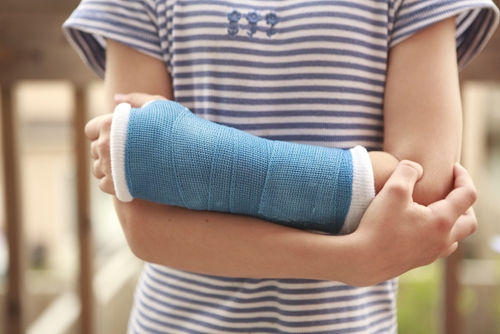 When bones are broken or tissue becomes injured, it is sometimes necessary to apply a cast to protect the affected area. This intervention allows broken bones to be set in place as they heal, and can also help to reduce pain, swelling and muscle spasms, according to
Ortho Info
. There are two kinds of materials used for casts: fiberglass and plaster. Each has its advantages – plaster is less expensive, and shapes better for some uses, while fiberglass is lighter, stronger and x-rays more easily. Which your doctor decides on will ultimately depend on the specifics of your situation. In both cases, however, you will need to take careful care of your cast to ensure complete and proper healing. Here are some do's and don't when it comes to maintenance:
Do: Reduce swelling
Swelling can make your cast feel tighter and less comfortable. You can reduce this by elevating the injured area for the first one to three days. You should keep the cast above your heart, which may mean reclining in the event that the injury is to a leg.
Don't: Stick objects under the cast
Casts can be itchy. If this happens, gently rub the skin around the edge of the cast for a few minutes. Some people also find it helpful to rub the other arm or leg, or to blow cool air from a blow dryer into the cast. Never insert objects into the cast. They can get stuck and/or cause it to loosen and lose effectiveness. Do not apply deodorants or powders to skin under the cast. If itching does not subside, contact a medical professional for further guidance.
Do: Exercise
Move uninjured fingers or toes frequently. This will help prevent stiffness and reduce swelling. It can also help you get used to navigating the world with your cast, and ease the transition once it is removed by your doctor.
Don't: Ignore pain or discomfort
It is normal to take some time to adjust to wearing a cast every day. However, pain and discomfort can be a sign of serious issues, and warrant medical care. Here are a few signs that you should visit your doctor, courtesy of the Mayo Clinic:
Pain or tightness in the injured area
Numbness or tingling in the injured area
Burning or stinging under the cast
Excessive swelling
Finger or toe paralysis
Foul odor
Raw or red skin around the cast
A fever of 101 degrees or higher
Do: Keep your cast in good condition
Dirt, sand and other debris can all get into your cast. If this happens, gently clean the surface with a cloth. You may want to keep your cast covered during mealtimes, or if you will be cleaning or doing particularly messy work. If the ends become ragged, visit a doctor to have them trimmed.
Don't: Get the cast wet
Plaster casts are always meant to stay dry,
explained
the Mayo Clinic. Moisture under plaster can cause mold or mildew to build up, which is bad for the skin and can impede recovery. Infection is a concern in this situation. Fiberglass is more porous and often comes with a water-repellant liner, which makes it easier to dry if it does get wet. However, this usually has to be done with a hair dryer on a cool setting. This can be tedious and time-consuming to do every time you take a shower or get caught in the rain. In addition, warm or hot settings can cause burns. Thus, it is not advisable to get a fiberglass cast wet, even if it comes with a lining,
UW Health explained
: "The number one rule of casts are to keep them dry. This includes  'waterproof' casts, too since these cast are NOT really waterproof. The outer shell is water resistant, but the cast has openings on each end that lets in water."
Do: Invest in a cast protector
"Even waterproof casts can be adversely affected by moisture. "
Even waterproof casts can be adversely affected by moisture. They are in fact just "water-resistant", meaning that if they are submerged for extended periods, they can irritate and become uncomfortable. This precludes certain activities, such as swimming, diving and in some cases, even showering. There is an easy solution: a
Seal-Tight cast and bandage protector
. Slipping one on allows you to perform all of the water-related activities you did before your injury, without worrying about how they will impact the integrity of your cast.
Don't: Ever remove a cast by yourself
Always have a cast removed by a trained medical professional. Never do so on your own, as you run the risk of cutting yourself or interfering with the healing process. Your doctor has a specialized saw to use in the process, which vibrates but does not rotate, allowing the padding inside to protect your skin from harm. Attempting to replicate this at home is dangerous and can even cause further injury. Wearing a cast is not always the most pleasant of times. By following these guidelines, however, you can make sure that it is as safe, comfortable and unobtrusive as possible.