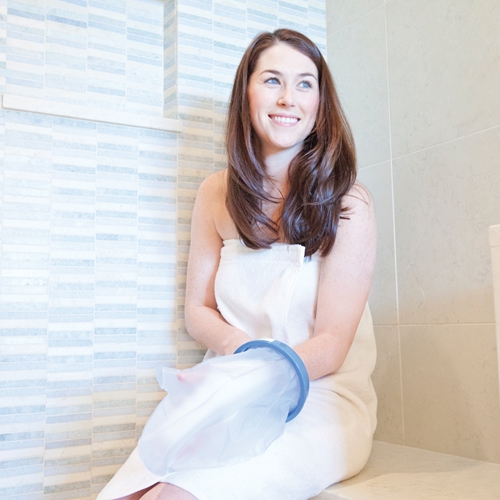 You broke a bone, but now that you have a cast on, you're good to go, right? Well, yes and no. Casts are an important step on the road to recovery. They help ensure that your bone heals properly by preventing movement, which is critical for regaining full function after your injury.
However, if you don't take proper care of your cast, it can be significantly less effective.
To expedite the healing process, you need to pay special care to protect your cast from the elements. Investing in a waterproof cast cover can help ensure that your cast remains strong and secure and is able to function the way it's intended to.
Water dangers to your cast
If your cast is made of plaster, water can post a significant threat. Plaster melts when it gets wet, which means that dampness can loosen your cast or otherwise damage its structural integrity. This can make being around water dangerous and taking a shower downright challenging.
However, some casts today are made from fiberglass rather than plaster. While this material stands up better to water, it's still best to avoid excess moisture. Though the structure of the cast likely won't be damaged, you'll need to dry it off, as the Mayo Clinic reported: Even fiberglass can become uncomfortable when wet. The best strategy for drying any kind of cast is to use a blow dryer on the cool setting, which can be time-consuming and frustrating.
And the outside of the cast isn't your only concern. The padding inside can also soak up moisture, which can create the perfect environment for mold or mildew growth. This can cause health complications ranging from minor skin irritation to serious infections.
The advantages of a waterproof cast cover
Water is clearly a danger to your cast. But what can you do? Short of foregoing showering for the weeks it takes your bone to heal – which is not recommended – you'll need some type of cover. Though some people try to make their own form of protection using plastic wrap, this can be a risky choice. Even small leaks can expose your cast to water and cause damage.
"A waterproof cast cover is a smart choice."
A waterproof cast cover is a smarter choice in these situations. These tools are usually made of a waterproof plastic material and completely envelope your cast. Typically designed for arms or legs, these covers allow you to continue your normal routine without worrying about spills or splashes.
Brownmed's SealTight® products are specially designed to protect your cast from water during showering or bathing. The watertight cover is comfortable, easy to use and seals without complicated loops, hooks or straps. The SealTight® Sport covers can even be used to keep your cast dry during recreational water activities, such as swimming.
Protecting your cast from the elements has never been simpler! Try a SealTight® cast protector today.