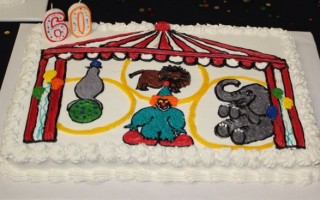 This month, Ivan E. Brown, President & CEO, turned 60.  Although he may not frequently discuss his love of the circus at business meetings, these extravaganzas have been a favorite pastime for the ringleader since he was a child.  Employees and their families  surprised Ivan with a birthday party at Boji Bay Pavilion, where three original Arnold's Park Fun House toys from his youth are now being preserved.  Cotton candy, popcorn and a circus cake were enjoyed, and employees' children and grandchildren were invited to partake in temporary tattoos, funny favors and balloon animal making.  The fun house slide was the highlight of the afternoon!
To make the day even sweeter, Brownmed HR Manager, Rod Patton, and his band Ceolmhor produced an original Happy Birthday song for Ivan.
Check out the video below!  At Brownmed, we know how to have fun.