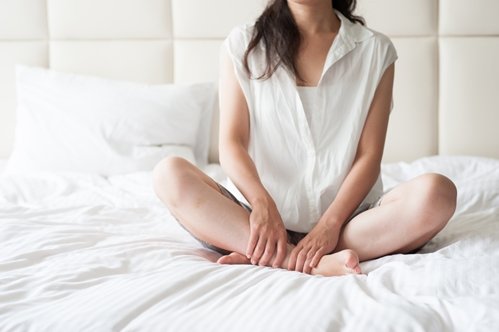 Getting a bad night's sleep is tough enough, but struggling with this problem consistently can be an impediment on your daily life. Being overly tired makes it hard to have a balanced, enjoyable day, and a lack of sleep is linked to poor health as well.
There are a few ways you can improve the quality of your sleep, and the IMAK® Compression Eye Pillow is the perfect tool for helping you enjoy a restful night. Here's why it's so valuable to get your Z's and how this eye pillow is an essential ally in that pursuit.
The importance of sleep
The U.S. Centers for Disease Control and Prevention found that as many as 70 million Americans live with a sleep or wakefulness disorder. This compromises the immune system, can increase stress and makes it difficult to lead a healthy lifestyle. As a result, individuals who have chronic issues getting a good night's sleep are at an elevated risk of everything from hypertension and obesity to diabetes and cancer. A lack of sleep can also contribute to depression and a lower quality of life overall.
There are a number of reasons it can be hard to fall asleep.Conditions such as insomnia or sleep apnea create serious difficulties, but general lifestyle factors can also play a role. A hectic work schedule and stress make it challenging to comfortably fall asleep, and being over-stimulated from caffeine and technology also upend natural sleep patterns. This might also make you more prone to disruptions from outside lighting, noise or even mild discomfort.
Why the IMAK® Compression Eye Pillow can't be beat
For every reason you might have trouble falling asleep, there are just as many home remedies for mitigating the problem. It's wise to power down electronics and to limit any snacking before bed, but to really get a few restful winks, the IMAK® Compression Eye Pillow is an option many people swear by.
Made of breathable cotton, this mask is comfortable. Full of massaging ergo beads it applies a gentle amount of soothing pressure that aids relaxation. Other eye masks can be bothersome and catch on your eyelashes at night, but a patented design ensures that this model is devoid of such a problem. An oversized mask and comfortable strap makes it possible to fully block out light without being too tight. This also means the mask is perfect for sleeping on your side or stomach. It's also freezable to provide soothing relief without the shock of ice or gel masks.
Because the pillow was designed by an orthopedic surgeon, it's also great for anyone recovering from surgery or struggling with persistent headaches. You can use it for getting a good night's sleep, but also to simply unwind with a moment of Zen following a stressful day of work. It's also very useful when it comes to calming meditation or when traveling.
The IMAK® Compression Eye Pillow is available at Walmart and other neighborhood stores. If you're having trouble getting a full rest, be sure to grab one of these masks and get back a better night's sleep.