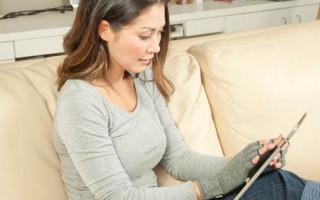 A guide for buying arthritis or compression gloves
Earlier this month, the CDC released new arthritis data, including updated numbers on the prevalence of arthritis and its impact on activity limitations. The report reaffirms previous predictions that cases of arthritis would rise rapidly with the aging population: 52.5 million adults now have arthritis, up from 50 million. The report also shows the impact of arthritis on activity limitations is exceeding previous estimates.  Arthritis now affects daily activities of 22.7 million adults, up from 21 million.
There are numerous products on the market that claim to offer relief for the millions suffering from arthritis pain.  Products like compression gloves, for example, can provide relief through mild compression, which reduces swelling, promotes warmth and increases blood circulation to the affected area.
However, it's important to note that not all compression gloves are created equally and the details can make a world of difference in the amount of relief provided by these products.
Below is a three step guide on how to identify quality compression gloves from the rest.
1.    Size Matters Be wary of compression gloves that claim to be "Universal" or "One size fits all".  Compression that is too tight can be dangerous and cut off your circulation.  Compression that is too loose is ineffective and offers little relief.  Look for gloves that are sized appropriately to fit your hand.
2.   Full Fingers mean Full Relief Many arthritis sufferers report feeling the majority of hand pain in their knuckles or joints.  Each of our fingers has three knuckles, known as the first, proximal and distal interphalangeal joints.  Compression gloves are most effective when the compression occurs in the area of highest pain density and therefore should fully cover each of your knuckles. Before buying compression or arthritis gloves, look closely to ensure that they will cover all of the joints on your hand. *Open fingertips are still an attractive feature, provided the gloves still cover the top knuckle, as they allow you the freedom to touch, grip and feel while wearing the gloves.
3.    Look for Third Party Endorsements and Reviews Third party endorsements and certifications provide unbiased opinions on the efficacy of the product you are about to purchase, particularly when the organization is directly related to the symptom for which are you seeking relief.  In this case, the Arthritis Foundation is a great source for information on the most effective products for arthritis relief.  They frequently test products for efficacy and ease of use, bestowing an Ease-of-Use Commendation upon those products that pass their full battery of tests.  Currently, the IMAK Arthritis Gloves are the only gloves on the market to receive an Ease-of-Use Commendation from the Arthritis Foundation.
The search for arthritis relief may seem overwhelming at times.  However, if you find gloves that are appropriately sized, cover all the joints in your fingers and, if possible, have the Ease-of-Use commendation from the Arthritis Foundation, relief from arthritis pain may be in your future.