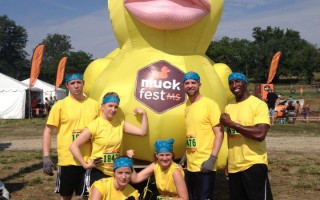 On Saturday, July 13th, Kansas City held its first MuckFest MS, a 5 mile, obstacle riddled mud run to benefit the Multiple Sclerosis Society.  The event drew more than 700 participants and at last check, has generated more than $30,000 in donations for the local chapter.  Funds raised will be used to support research and provide resources for individuals and families coping with Multiple Sclerosis, a chronic and often debilitating disease of the central nervous system.
The course was jam packed with challenge as well as fun.  Sporting more than 20 unique obstacles, from the two story "Spider Web" rope climb to the 20′ firefighter pole and the giant swingset used to catipult participants into a 6′ mud pool to the numerous soggy tunnels to army crawl through, the event had something for everyone.
Team Duck Dales, named after Matt and Justin Garver's dad, Dale, who passed away from MS complications in 2012, was one of many teams that completed the course as a group.  Along the way, anxieties were conquered together as the team faced a fear of heights, claustrophobia and that sinking feeling you get in your stomach when you're in mud up to your eyeballs.  While it may sound crazy, no major injuries were sustained and there was a great deal of laughter during and after the event.  As each new obstacle was presented, the team sized up the best plan of attack and worked together to get everyone through.  Much like living with an unpredictable disease like MS, many times the team had to begin an obstacle before really knowing what the outcome would be.
Sound like fun?  Want to help?  Look for a MuckFest MS event near you, or make a donation to the National MS Society.  Finally, if you or someone you love is living with MS, find support and resources here.
Yours in muckitude, Kylia and Matt Garver Co-Directors of Marketing, Brownmed
The team before Muckfest
Left to right: Justin Garver, Jennifer Garver, Mandie Nelson, Kylia Garver, Matt Garver (I spy IMAK Active Gloves!) and Gavin Williams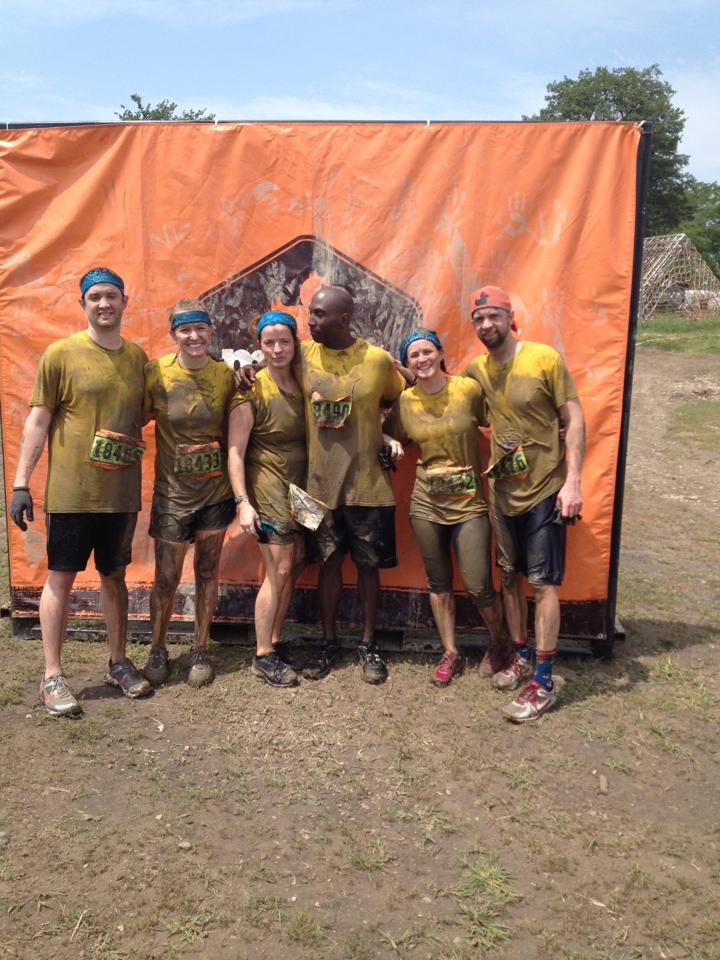 The team after MuckFest