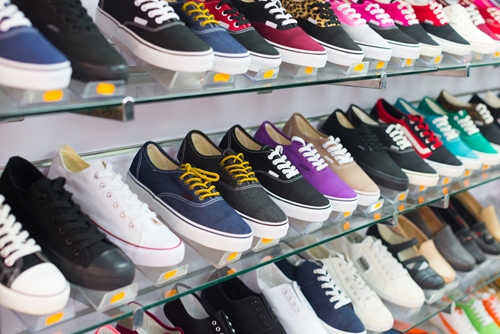 According to the
New York Times
, roughly 75 percent of Americans will have to deal with foot pain at some point in their lives. Feet take a tremendous amount of pressure throughout the day, particularly for people who work in professions that require standing or walking for most of the day. Ill-fitting shoes can exacerbate the issue: In fact, the paper identified improper footwear as one of the primary causes of discomfort, particularly when it comes to toe pain. Choosing the right shoes has a much greater impact than whether an outfit will come together – it's also a matter of health. Here are a few things to keep in mind when making a purchase:
Measure twice, buy once
Before you even go to the shoe store, measure your foot multiple times so that you have a much clearer idea of what you are looking for. Trace the outline of your foot, and bring a copy of it into the store with you – that way, you can simply measure any pair you like against that picture. If the shoe is too narrow or short for what you'll need, don't even waste time trying it on. Or, visit only the stores that offer a professional shoe fitting.
Don't forget about width
Most people immediately know what their shoe size is as it relates to the length of their foot, but what about the width? Styles that are too narrow can compress the foot and cause pain and swelling: going a half-size up won't address the issue. If the widest part of your foot feels compressed by the sides of a shoe, ask the salesperson if there's a wider pair.
Online retailer Zappos
explained how to navigate this part of the process: "While some people's feet fit within an average shoe width range, many people need specialty sizing for a good fit. This is especially true if you are shopping for dress shoes or high heels. If you find that your feet are moving around in your shoes, you probably need a narrower shoe. If shoes are often too tight or pinch, you likely need a wider shoe size. Casual shoes may offer a slightly more forgiving fit. A size B is the average width for women and a size D is average for men."
Try before you buy
Don't just quickly try on a pair – walk around the store to make sure that they are comfortable before ultimately making your purchase. Do they feel like they're slipping off? Are they uncomfortably tight? Do they pinch around the arch of your foot? These are all signs that they're not the right shoes for you. Never assume that you can "break in" shoes and that they will become comfortable over time. Instead, go for ones that fit right away.
Remember that your feet can change
Even after you've reached adulthood, your feet can change size, often growing larger and wider as you age. Before you buy new shoes, make sure that you know your current size. In some instances, your right and left feet can vary in size from each other, so have the salesperson measure them independently, and provide a shoe that comfortably fits each of them.
"Different shoes are appropriate for different activities"
Research additional features
Different shoes are appropriate for different activities. For examples, running shoes are more flexible and have a greater cushion to absorb impact. Basketball shoes tend to be bulkier, with greater ankle support. Some pairs come with inserts or shock absorbers, which might be appropriate for you, depending on how you plan to use them. The important thing is that you know your lifestyle, and pick footwear that fits within it.
Purchase any accessories you'll need
If you are recovering from a foot injury or dealing with an ailment, even the best shoe might not be enough. An orthotic, such as those from the
Soft Stride line
, contain a unique polymer that closely mimics the qualities of soft body tissue, to redistribute pressure and reduce impact.