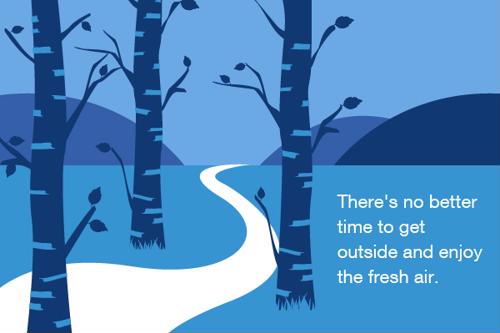 As Mother Nature finally graces us with her lively springtime weather, there's no better time to get outside and enjoy the fresh air on a gorgeous nature walk or hike. According to the 2018 Adventure Travel Trends Snapshot by the Adventure Travel Trade Association, hiking is currently the No. 1 in-demand adventure activity, so there's no doubt that adventure seekers across the nation are ready to bust out the hiking gear and hit the trail.
Before you commit to any strenuous trek, however, it's important to ensure your feet are ready for the journey. The right pair of shoes will protect your feet from rocks and debris, have good grip and never weigh you down during your trip.
Here are a few springtime hiking footwear tips to consider:
Choose the right style
You shouldn't wear a traditional pair of tennis shoes on a hike, especially if the trail has a wide range of terrain. According to Recreational Equipment, Inc., you should pick a pair of hiking boots that match the type of trek you plan on taking. Day hiking boots, for instance, are low-cut and more flexible to provide comfort for short distance hikes. Long distance backpacking boots are cut higher for more ankle support during off-trail excursions. Always do your research before committing to a pair of boots to ensure the safety of your feet during your hikes.
Pay attention to the size and shape of your feet
How and where you're hiking shouldn't be the only determining factors behind finding your next pair of hiking boots. Your foot shape and size also play a large role in choosing your best fit. A pair of boots that's too tight or too loose can cause discomfort along the trail.
Wear the right socks
Socks matter just as much as your choice of footwear. Eastern Mountain Sports recommended wearing thin or thick hiking socks based on the shape of your feet (thin socks for wide, thick socks for narrow) and also considering synthetic or wool blend based on how cold or hot your feet get during your hike. Sock style may vary throughout the season based on the weather, so be sure to check the forecast before choosing a pair for your trek.
Try Softstride
Whether you hike often or only plan on grazing the trail a few times this spring, Softstride orthotics can help keep your feet in pristine condition after a strenuous journey. This line of flexible foot orthotics can provide comfort and address pain throughout the foot, heel, ankle, arch and even legs. Designed with viscoelastic polymer, Softstride products are designed to mimic soft body tissue to redistribute pressure and alleviate the impact that comes with taking a hike. Between hindfoot, forefoot, insoles, underliners and sheets, there's a Softstride product out there for every type of hiker who wants to minimize injury and discomfort while enjoying the great outdoors this season.
Browse all of the Softstride products by Brownmed today.