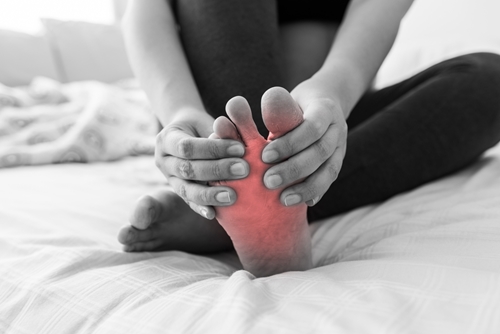 Millions of Americans suffer from plantar fasciitis every year. The condition affects the heel and the foot, and presents as either a sharp or throbbing pain that is most pronounced upon waking up or after a long period of inactivity. Those managing symptoms know that they can be a constant source of frustration, and could impact everything from working to competing athletically. One method for dealing with discomfort related to plantar fasciitis is stretching – because it affects connective tissues, keeping the foot limber and flexible can provide relief. Here are three simple exercises that you can do to help manage the pain:
Calf stretch
While the plantar fascia is in the foot, taut calf muscles can exacerbate the discomfort. This
stretch
,
recommended
by Deborah Irmas, a personal trainer certified by the American Council on Exercise, can help ease heel pain:
Start by standing about arm's distance from the wall.
Put your left foot in front of your right.
Bend your left knee forward, slowly and gently, while keeping your right knee locked and your right heel firmly on the ground.
Perform this stretch three times, holding it between 15 and 30 seconds.
Reverse position, and do the same intervals for your right leg.
Be cautious not to overdo it: Do not hold the stretch for longer than 30 seconds, and be mindful of the signals that your body is giving you.
Seated stretches
There are a number of stretches you can do from a seated position to help relieve the symptoms of plantar fasciitis. These exercises can be especially helpful for those who have office jobs that require them to remain seated for long stretches of time: Extended bouts of inactivity can heighten the pain that is caused upon standing up. If you do these, remember to keep your back straight.
Take off your left shoe. While sitting down, roll this foot over something cold and cylindrical, such as a frozen water bottle. Do this for about a minute, before taking off your right shoe and doing the same for that foot.
Cross your left leg over your right. Grab the big toe of your left foot, and pull it gently toward yourself. As with the calf stretch, do this three times, holding for about 15 to 30 seconds on each one. One you're done with the left foot, cross your right leg on top, and repeat the same process.
Place your feet next to each other. Fold a bath towel, and put it under your soles. Grab the ends of the towel, and gently pull up and toward you, taking your feet with the towel. Perform three reps, holding for 15 to 30 seconds each time.
Even if you don't have plantar fasciitis, there is good reason to perform such stretches before working out, according to Irmas, as they can prevent it from even developing in the first place.
Standing
stretches
There are also a number of ways to stretch your feet from a standing position. Here are a couple that you can easily do at home: 1. Lean forward against the wall, bending one knee and keeping the other straight. You should feel your arch and heel stretching as you lean. Keeping your back leg completely extended, hold this position for 10 seconds before relaxing. Do this stretch 20 times for each heel that is sore. 2. Find a table or countertop. Lean onto it, while spreading your legs – one foot should be in front of the other. By flexing your knees, squat down toward the ground, feeling your heel and arch stretch as you do so. Keep your heel down as much as you can, holding for 10 seconds each time. Again, perform 20 repetitions. While these exercises can help, it is also important to get direction from a physician. A doctor can provide further context and treatment options, as well as monitor the progress made and prescribe any medications required.