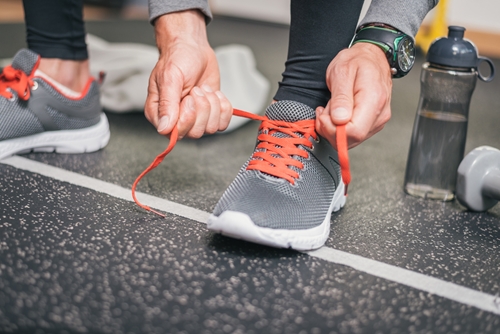 Warm weather has finally arrived, and with it comes a number of fun activities best enjoyed during the summer. From hiking up mountains to taking long walks on the beach, sunny days are the perfect opportunity for being active outdoors. But if you're living with plantar fasciitis, that may be easier said than done.
However, plantar fasciitis doesn't need to keep you from living an active lifestyle. Wearing the right shoes can go a long way in helping you to enjoy your favorite summertime activities with minimal pain.
Understanding plantar fasciitis
Plantar fasciitis is an inflammation of the plantar fascia – the thick strip of tissue in your foot that connects the toes to the heel bone. It causes a stabbing pain in the heel that is usually most noticeable first thing in the morning when you get out of bed or after other long periods of inactivity.
Surgery or other invasive procedures are typically not required to treat plantar fasciitis. Simple steps, such as stretching and resting, are usually recommended to alleviate the condition. However, even with the right treatment plan, it can often take months for plantar fasciitis to completely heal.
Consequently, finding the right footwear during this period is an important step to limiting your pain, encouraging healing and ensuring that you can participate in all your favorite warm-weather activities.
Choosing the best shoes for plantar fasciitis
If you have plantar fasciitis, your first concern when it comes to picking out a pair of shoes should be finding the proper fit for your foot. As simple as it sounds, wearing shoes that don't fit is a contributing factor for the development of this condition, especially when running. But the right fit isn't just about the size of the footwear. Every foot is different, which means you may require extra arch support or other specific details to ensure comfort.
The following are three things that you should specifically be looking for in plantar fasciitis shoes:
Arch support: Both high arches and flat feet can cause plantar fasciitis, according to Mayo Clinic. Consequently, proper arch support in your shoe is critical.
Sole cushioning: To ease pain in your heel, proper sole cushioning is key. Inserts, such as the SoftStride® Extended Heel Cushion, can also help.
Pronation support: Although your feet should be relatively flat when you stand, they may turn in or out just slightly. This is known as pronation. Finding shoes that correct your pronation will give your feet better support.
While the best choice for your next pair of shoes will depend on the specific needs of your feet, a few brands that tend to be comfortable for those living with plantar fasciitis include Birkenstock, Dansko and ABEO.
When in doubt, speak to a specialist to ensure that you find a plantar fasciitis shoe that will help you continue living an active lifestyle this summer without exacerbating the condition.