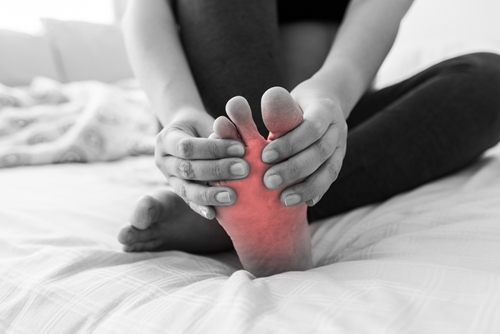 Discomfort, stiffness or pain in your feet can be an excruciating problem. It can limit your ability to do the things you love and left untreated can keep you from living your life or even getting a good night's sleep. If pain is too serious and you can't put any weight on your feet, you should consult a doctor. But if your discomfort is more mild, you may be suffering from one of these common ailments:
Arthritis
The foot is made up of a complicated network of bones, muscles, ligaments and tendons. This gives you an impressive amount of flexibility and mobility but also means there's a big opportunity for problems. Arthritis in the feet can lead to pain or stiffness, as well as swelling or inflammation.
"Gentle compression promotes good circulation."
Over time, the Arthritis Foundation reported that this 
causes symptoms
 such as corns or bunions, and favoring one side of your body can eventually lead to problems in both feet. Rheumatoid arthritis is one of the most common forms of the ailment. There are several treatments, exercises and stretches that can be used to limit your arthritis, along with medications and other treatments.
IMAK Compression Arthritis Socks
, however, represent one of the most simple and effective tools for reducing pain and swelling. Gentle compression promotes good circulation and warms your feet, reducing the causes and symptoms of the condition.
Plantar fasciitis
Another common ailment that affects the feet is plantar fasciitis. Named after a band of tissue that runs on the underside of the foot, the most common symptom of the disorder is sharp pain, usually in the heel. Often this is most problematic in the morning or during
prolonged physical activity
, the Mayo Clinic reported. Like arthritis, plantar fasciitis can make it difficult or impossible to comfortably run errands, do your job or simply go for a walk. Along with regular stretching and targeted exercise, wearing protective gear can go a long way. The
Nice Stretch Plantar Fasciitis Sleeve
 works to alleviate pressure and offer support for the entire foot and ankle. This is similar to the kind of treatment you might receive from a doctor or see an athlete using to protect against injury.
An old injury
Sometimes foot pain isn't the result of wear and tear or a naturally occurring ailment. Instead, you may be suffering from an old or nagging injury. Even a seemingly benign sprain can flair up or get worse over time, especially if you neglect to treat it when it first happens. And unless you take time to let your foot heal, conditions can continue to worsen.
Osteoarthritis and other concerns
A common issue and another form of arthritis, Osteoarthritis is characterized by the breakdown of cartilage in the feet. As a result, bones have less cushion and can rub against one another. Osteoarthritis can lead to stiffness or pain. The Arthritis Foundation stated that this most commonly affects the big toe but can occur in the middle of the foot or elsewhere. Without major medical intervention, Osteoarthritis is difficult to treat, and for that reason, you should look for preventative solutions at the first sign of symptoms. Like other forms of arthritis, this means exercise and stretching as well as looking for protective footwear and other items. Osteoporosis, meanwhile, is the breakdown of bone mass. Older adults especially can be susceptible to this condition. Along with gout, lupus and other ailments, osteoporosis is yet another disorder that can cause pain or stiffness in your feet. Look for proactive ways to support good health such as diet and exercise and use protective equipment that minimize pressure or pain.