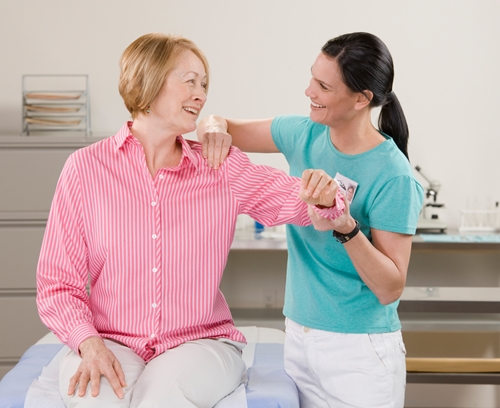 Parkinson's disease is a disorder that over time creates mobility problems by affecting the nervous system. Tremors are one of the most common symptoms, and this can be very minor or more serious involuntary bouts of shaking. As many as one million Americans are
living with the condition
, according to the Parkinson's Disease Foundation. Medication costs average $2,500 per person each year, and surgeries can be $100,00 or more. Vibration therapy represents a powerful and cost-effective resource for individuals living with Parkinson's disease. There is evidence that this can sooth pain and stiffness, and growing research suggests it can alleviate tremors as well. For many people around the world, vibration therapy could be an important tool. Here's what you need to know:
What is Parkinson's disease?
The disorder is characterized by the slow break down and death of neurons that limit chemical messaging throughout the body. As a result, individuals living with Parkinson's may suffer from tremors caused by imbalances in the brain. This can also lead to stiffness and limited mobility in the limbs, hands and feet. Some patients may also have trouble with posture, and eventually struggle with writing, speech and even breathing. The Mayo Clinic reported that scientists are unsure of the
root causes
of the disorder. There are genetic traits that can leave individuals more susceptible to Parkinson's disease, but environmental factors and behaviors can play a role as well. And although older adults and men in particular show higher rates of the condition, it can affect anyone.
How can vibration therapy help?
There is no cure for Parkinson's disease, and although on-going treatments are available that extremely important for those living with the disorder, these can be expensive or difficult. Fortunately, researchers have uncovered that vibration therapy can be helpful in limiting pain or reducing tremors.
"There are many options when it comes to vibration therapy."
Scientists from the Florida State University College of Medicine found that regular vibration therapy was helpful in improving the quality of life in study participants
diagnosed with Parkinson's disease
.
Similar results
were also reported by researchers at the Biomedical and Mechanical Engineering Departments at the Lebanese International University. Overall, the use of small braces and wraps that softly massage the body through vibration not only supported individuals and lessened the affects of tremors, but were also able to reduce pain and improve dexterity in the short-term. Because there are
many options
when it comes to vibration therapy, those living with Parkinson's have new options beyond traditional medical treatment.
What other steps are helpful?
Importantly, the authors of both studies stated that regular exercise was needed to make vibration therapy successful. This strengthens muscles and helps combat the degenerative effects of Parkinson's disease. Even activities such as yoga or Tai Chi can be beneficial in keeping the body strong. When done in conjuncture, an individual can slow the process of the illness and use vibration therapy to minimize complications and discomfort. The Mayo Clinic reported that other alternatives offer similar but less targeted relief. Massages reduce tension and promote relaxation. Home vibration therapy makes it possible to achieve the same results alone and with more specific results. Individuals living with Parkinson's disease may also benefit from a change in diet. Whole grains, fruits and vegetables promote wellness and help bolster an exercise regimen. The omega-3 fatty acids found in fish has also been tied to better daily health for patients as well. Fiber and plenty of fluids are necessary too, as the disorder can cause complications going to the bathroom. Overall, vibration therapy is part of a mosaic of treatments that reduce pain and tremors. Gloves, wraps and masks that offer this relief represent an important resource in addressing Parkinson's disease.