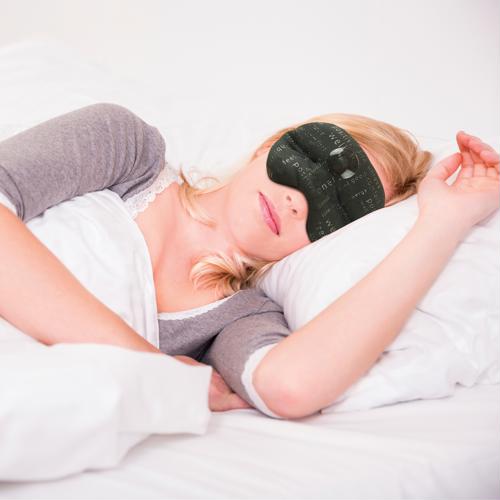 With a flexible spending account, you have funds set aside to pay for out-of-pocket medical costs. Your employer can make contributions to your account, and the money in your FSA doesn't get taxed, making it incredibly advantageous. If you don't use the funds left in your account by the end of the year, however, you may lose them – unless your employer provides a two-month grace period or allows you to carry over $500 into the following year, according to the U.S. Centers for Medicare & Medicaid.
For those who only have until Dec. 31 to use up the funds, you might think you're out of luck unless you have costly eyeglasses to buy or can still schedule a visit to your dentist. Here are three products you might not think of that are FSA-eligible.
1. IMAK Eye Pillow
Are you having trouble falling asleep at night? Are you too stressed to get an adequate amount of rest? The IMAK Compression Eye Pillow can help you get to sleep without counting sheep. This patented eye mask is designed to conform to your face and eyes, providing the ultimate comfort so you can relax and get some shut-eye. It's made with breathable cotton material and has smooth ErgoBeads™ inside to gently massage around the eyes to help you unwind. Additionally, you can keep the mask in the freezer so it provides cooling stress and pain relief when you're ready to use it.
2. IMAK™ HappiNeck™ Orthopedic Neck Support
Whether you're traveling or trying to relax at home and need additional comfort or support, the IMAK™ HappiNeck™ Support Pillow makes the perfect FSA purchase. This product can be used alone or in combination with your favorite pillow, and it contours to your neck and shoulders to provide maximum support. It's compact and lightweight, taking the burden out of carrying around another heavy object, and it's made with fine quality plush terry cloth and hypo-allergenic poly filling to ensure your comfort. Gone are the days of holding your neck up with your fist in an uncomfortable position – the IMAK™ HappiNeck™ makes it easy to relax your neck while you're sleeping, traveling long distances, watching TV and more.
3. Polar Ice® Knee Wrap
If you've experienced soft tissue trauma in the past, Polar Ice® Knee Wrap can provide the pain relief you need. Much like cryotherapy, the cold compression ability of this product helps to control edema or swelling. It's designed with easily washable soft fleece material that insulates the skin from the ice to prevent frostbite and the release of moisture. This product is key for those experiencing injuries, sprains and bruises that require cold compression therapy.
What better way to spend your FSA dollars than on products that provide pain relief? 'Tis the season for gift giving, and there's nothing wrong with purchasing yourself a present or two this holiday season. You can find all of these Brownmed products on FSAstore.com where you can spend all of your remaining funds before the end-of-the-year deadline.